KS HUSMALER is a company with high professional qualification personnel with a vast experience in the field of interior and exterior improvements of private housing at affordable prices. The company saw that its personnel to be well motivated and to have a high level of professional approach and behavior. Established in 2011, KS HUSMALER became today a company appreciated by many people as it professionally meets the more diverse requirements of its clients in Norway.
Since 2018, the company has changed its name to KSO Husmaler AS.
A happy client is a very good advertising method. This is probably the explanation that most of our new clients contact us due to recommendation from other clients. This is a thing that we are proud of, but that also make us to pay attention to the smallest detail.
Since establishment, our main goal was and will be to provide high quality services according to the client's requirements, legal requirements and valid regulations, and to increase the client's satisfaction.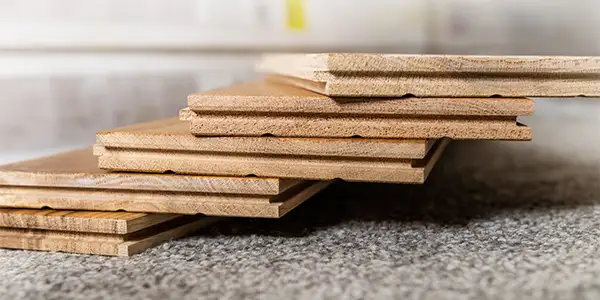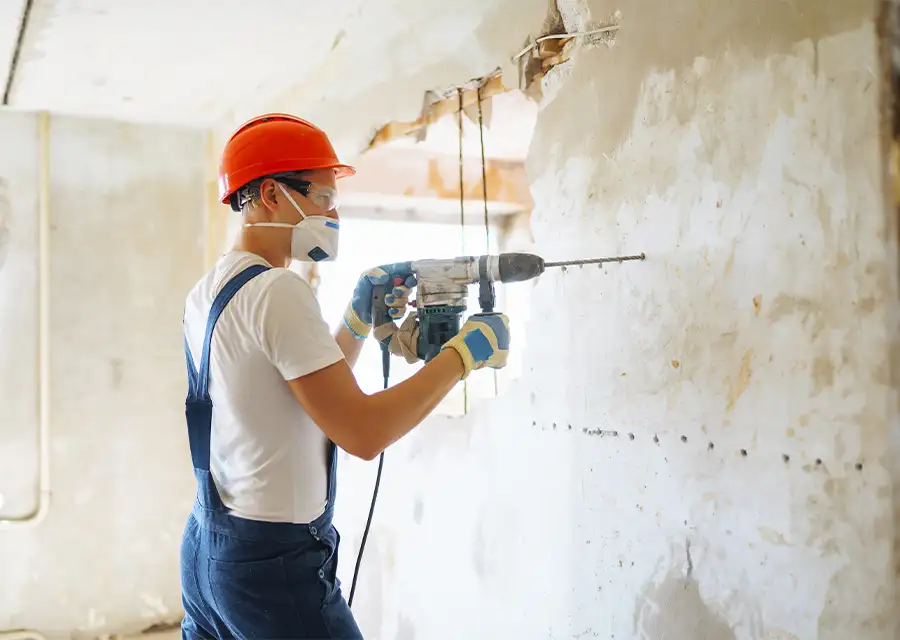 We are convinced that we can prosper and develop only by fulfilling our clients' desires. That's why we employ all our resources that, in the end, to present a product of highest quality. In this respect we have partnerships with licensed electricity and sanitary installations companies, as well as with building materials producers.
Description:
Painting a house is no longer just painting, it requires knowledge and experience. Today there are over 100 different types of paints for exterior paint from oil alkyd-based, oil/water (hybrid paint) and acrylic-based. The older the house, the greater the challenges with the facades. Many houses I look at were painted only 5-6 years ago and already need to be repainted. Especially for facades with horizontal panels, it is important to thoroughly wash the seams. In other words, washing properly and using the right type of paint is particularly important to achieve a top result, the facade should, after all, look good for 15 years to come! Black mold is not dangerous, but fungicides should be applied after washing the facade. The panel must not have more moisture than 16% before painting, preferably around 12%.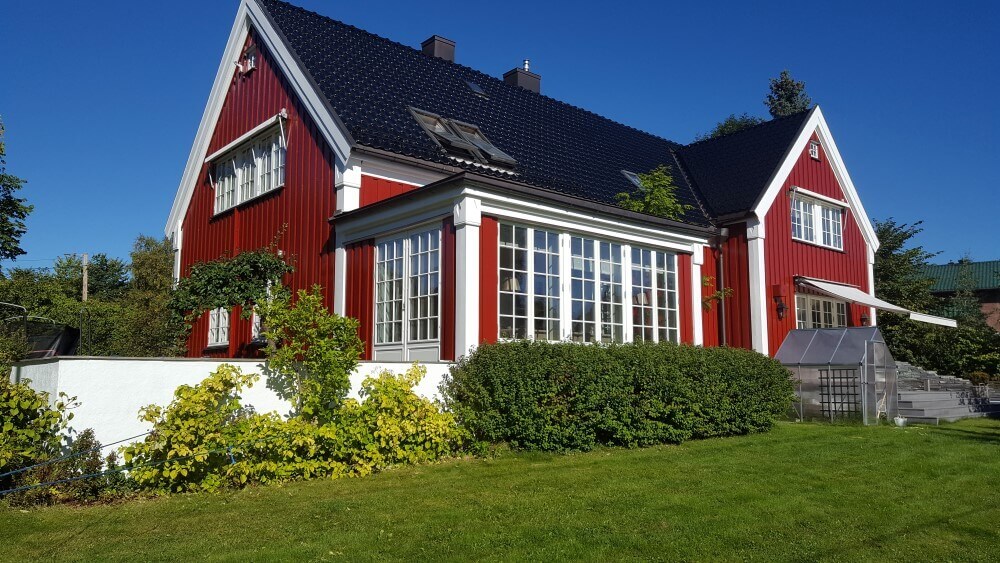 Newer house. Horizontal panel, some black fungus and muck due to surrounding vegetation, must be washed well. Paint with 2 coats. Windows are painted with ONE door and window paint.
Washing the facades is also very important to get the paint manufacturers' guarantees.
Houses with horizontal panels are particularly important, as all the dirt lies below the edges. We have a separate department that only washes facades so that this is taken care of in the best way. Soap is applied with a foam gun and folds are brushed over before rinsing. Poor/incorrect washing is the main reason for a poor result and peeling paint after a few years on facades!. The facade must be left to dry for about 3-4 days until the humidity is below 16% (measured before starting).
Covering is a large and important part of this job, slabs/tiles, awnings, asphalt, various fittings, water table u/o window, concrete, gravel, water taps, air hatches, and terrace boards etc are covered with tape, felt or plastic. Drains are loosened / removed if necessary during the works.
Tildekking er en stor og viktig del av denne jobben, heller/fliser, markiser, asfalt, div beslag, vannbord u/o vindu, betong, grus, vannkraner, lufteluker, og terrassebord etc tildekkes med teip, filt eller plast. Nedløp løsnes / tas om nødvendig under arbeidene.
Important:
Scaffolding is required for companies over 2m high (private 3.5m). Everything. is use of lift. Ladders are no longer permitted over 2m for companies. 
We will combine scaffolding and lift use with you. Lift over extensions and on some gable walls and the rest with rolling scaffolding.
We have experienced painters, lift passes, scaffold assembly courses / approval, all foremen speak English. HSE and insurance both for damage to other people's property and to the workers are in order (mandatory).
We only use top paint products and prefer paint from Nordsjø, Beckers, Jotun or Flugger.